08 June 2018
UNCTAD Secretary-General tells Latin American consumer protection and competition authorities they must band together to tame the abusive power of dominant players in the global digital economy.
The best way to shield people and markets from possible abuses of power by digital giants, such as Facebook and Amazon, is to band together, UNCTAD Secretary-General Mukhisa Kituyi has told Latin American consumer protection and competition agencies meeting in Santo Domingo from 7 to 8 June.
The agencies were in the Caribbean city for the annual conference of COMPAL, an UNCTAD programme funded by the Swiss government that works with 17 countries in the region to help strengthen consumer protection and competition policies.
According to the just-published World Investment Report for this year, digital firms continue to assert their clout in the global economy. In just five years, the number of tech companies listed among the top 100 multinational corporations has more than doubled, reaching 15 in 2017, the report says.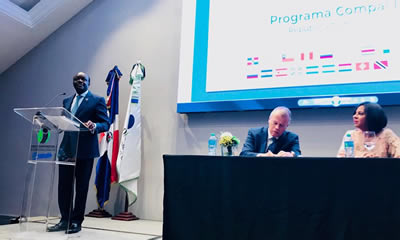 While the growth of digital companies isn't inherently bad, history has shown that increased market power tends to lead to abuse.
"One of the threats to consumers of the digital giants – Google, Facebook, Microsoft – is that first they attract your attention, next they detain your attention, third they addict you, and fourth they lead you to look where they want you to look for their commercial benefit," Dr. Kituyi said, quoting billionaire investor and philanthropist George Soros.
The head of UNCTAD said the European Union had been able to tame digital giants' abuse of privacy and data rules only because its regulators acted with the authority and weight of 28 governments
"There's no way a minister or a head of an authority of even Germany could have taken on Facebook, Microsoft, Apple at the same time and won any significant war," he said.
The lesson is that unity will become even more important to protect markets and people in the growing digital economy, where products and services flow across borders and jurisdictions with increasing ease.
In Latin America, where no regional authority exists, a network of competition and consumer protection agencies like COMPAL could lead the way, Dr. Kituyi said.
"The voice of COMPAL can be the driver of competition and consumer protection in the face of the phenomenally expanding power of fintech giants, of electronic trading platforms, of the cross-border intangibles economy," he said.
"Compal remains our most important and most successful, longest-surviving technical cooperation programme on building competition law and consumer protection," he added.
Click, pay and pray
Though western European consumers now do most of their shopping online – up to 70% – most shoppers in developing regions, such as Latin America, still prefer to buy goods and services offline.
One of the main reasons is a lack of trust, Dr. Kituyi said.
"As we say, many times in cross-border electronic trade, you click, you pay, and you pray," he said.
"You have no guarantee of the protection and the integrity of the transaction – particularly your right to return goods," he added.
Part of the problem is that not all countries agree on the right to return goods.
"We have identified, for example, some countries where officially governments dissuade their enterprises from accepting to bring back goods that have been exported," Dr. Kituyi said. "This is a phenomenon that we have to collectively fight against and roll back."
"So the emerging new issues of industry 2.0 will require innovative, collective engagement by competition and consumer protection institutions like COMPAL to lead in soft development of law which can translate into national legislation."