14 November 2018
UNCTAD senior management and government representatives call for restraint and dialogue in an attempt to resolve the crisis facing the multilateral trading system.
Global leaders must resist "far-fetching" doomsday scenarios of an era of post-multilateralism, Sri Lanka's permanent representative to the United Nations in Geneva, Aliyar Lebbe Abdul Azeez, said on 12 November at a trade commission in the Swiss city.
Ambassador Azeez delivered his remarks following his election as chairperson for the 10th session of UNCTAD's Trade and Development Commission, an annual meeting that discusses the key issues affecting the role international commerce plays in economic and social development.
This year's commission has gathered amid growing concerns about the multilateral trading system's future and prospects for achieving the goals enshrined in the 2030 Agenda for Sustainable Development endorsed by global leaders in 2015.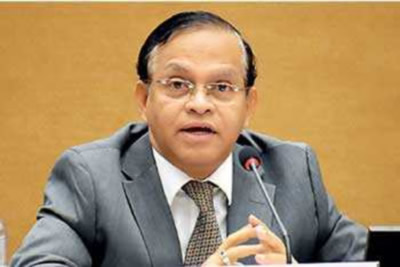 H.E. Ambassador Aliyar Lebbe Abdul Azeez (Sri Lanka),
"We cannot afford to let worries over international trade put the 2030 Agenda at risk," UNCTAD Secretary-General Mukhisa Kituyi said in a written statement to the commission.
"At UNCTAD, we will continue to do all we can to help countries put trade to work for their development, even as global prospects appear uncertain," Dr. Kituyi added.
A very fragile state
Canada's deputy permanent representative to the World Trade Organization (WTO), John O'Neill, said the title of the commission's opening day discussion – Multilateralism under threat:what next? – would have seemed extreme a few years ago.
"But today we are indeed facing unprecedented challenges in the multilateral trading system," Mr. O'Neill said. "We need to take urgent action."
He added: "The rules that were established through the multilateral trading system matter a great deal to all of us at all levels of development. They afford protection and create opportunities for even the smallest economies to compete and to succeed."
Pamela Coke-Hamilton, director of UNCTAD's international trade and commodities division, agreed trade is in a "very fragile state" and that current trade tensions jeopardize development goals.
"I think the threat to the Sustainable Development Goals is clear," Ms. Coke-Hamilton said.
"But what is even more important is that UNCTAD estimates suggest that a full trade war would take average tariff levels from 3% to 30%," she said, adding that a such a hike would be catastrophic, especially for developing countries.
Shamika N. Sirimanne, director of UNCTAD's division on technology and logistics, agreed with her colleague, reminding governments that trade costs in developing countries are already 1.8 times higher than in developed economies.
"This is on average. But the costs can be vastly different. If you're a least developed country, the trade costs are much higher than this," Ms. Sirimanne said.
Restraint and dialogue
So, how do we revitalize the multilateral trading system under current tensions, asked Cheryl Spencer, Jamaica's permanent representative to the UN in Geneva.
Ambassador Spencer called for restraint.
"Any escalation [in trade tensions] will undoubtedly have destabilizing effect on global trade and economic growth."
But, she said, restraint must be followed by dialogue. And the United Kingdom's permanent representative to the UN in Geneva, Julian Braithwaite, agreed.
"One of the big issues has been the fact that often the perspective of developed and developing countries seem to be different or sometimes even at odds," Ambassador Braithwaite said.
He added: "UNCTAD has actually played a very important role in ensuring that the perspective of developing countries is properly reflected in multilateral discussions and has been a sort of key platform for that for five decades."
The development dimension
China's permanent representative to the World Trade Organization, Zhang Xiangchen, said that rebuilding trust in the multilateral system required placing developing countries' perspectives at the heart of discussions on how to reform organizations such as the WTO.
"The development dimension has always been at the core of the organization…as the vast majority of WTO members are developing countries," Ambassador Xiangchen said.
"I'm convinced that the capacity constraint of developing countries is the fundamental aspect of development issues at the WTO."
The capacity gap between developed and developing countries, he said, includes aspects such as their ability to negotiate trade rules, to implement the agreements and to benefit from the negotiated outcomes.
The 10th session of UNCTAD's Trade and Development Commission is meeting at the Palais des Nations – the UN's European headquarters – from 12 to 16 November.
In addition to the crisis of the multilateral trading system, the commission is expected to examine issues such as competition and consumer protection policies, trends in the commodities trade, and the role of services in the global economy.