Investment into East and South-East Asia drops slightly, report says
Investment into East and South-East Asia drops slightly, report says

Press Release
For use of information media - Not an official record
UNCTAD/PRESS/PR/2013/030
Investment into East and South-East Asia drops slightly, report says
But driven by intraregional restructuring, lower-income countries are bright spots for labour-intensive investment
Geneva, Switzerland, 26 June 2013
Foreign direct investment (FDI) inflows to East Asia and South-East Asia in 2012 dropped by 5 per cent to US$326 billion, UNCTAD's World Investment Report 20131 reveals.

The report, which is subtitled Global Value Chains: Investment and Trade for Development, was released today.

FDI to East and South-East Asia declined as a result of falls in major economies in the region, including those of China, Hong Kong (China), Malaysia, and the Republic of Korea, the report notes. The decline was both in cross-border mergers and acquisitions (M&As), and in greenfield investments – meaning investments in industries or sectors that are new to the recipient countries. M&A sales contracted in 2012 by about 37 per cent, to $23 billion, while the total level of recorded greenfield investment deals decreased by 28 per cent.

China continues to be the leading FDI recipient in the region, as well as in the developing world (figure 1). FDI inflows to the country dropped by only 2 per cent in 2012, remaining high at $121 billion, despite strong downward pressure on FDI in manufacturing caused by rising production costs, weakening export markets, and the relocation of foreign firms to lower-income countries, the report says.

As labour-intensive industries have experienced a considerable wave of relocation, the Chinese manufacturing sector as a whole has been upgrading, the World Investment Report notes. Both domestic and foreign investments are increasingly targeting high-technology industries, such as advanced electronics components. In addition, an increased number of foreign-invested research and development (R&D) centres – about 1,800 by the end of 2012 – demonstrates that FDI has helped China enter into more advanced activities along global value chains.

Hong Kong (China), the second largest FDI recipient in East and South-East Asia, saw a 22 per cent decline in inflows in 2012, to $75 billion, the report reveals. FDI inflows to the Republic of Korea dropped slightly – by 3 per cent – to $10 billion, while those to Taiwan Province of China turned positive, going from a negative $2 billion in 2011 to $3 billion in 2012. Inflows to Mongolia declined, but remained at a level above $4 billion thanks to foreign investment in mining (table 1). However, FDI prospects in that sector have become uncertain, as a dispute looms between the national government and foreign investors, the report notes.

The 10 member States of the Association of Southeast Asian Nations (ASEAN) saw an overall 2 per cent increase in FDI inflows in 2012, partly as the result of a large amount of inflows (up by 1.3 per cent up to $57 billion) to Singapore, the subregion's leading FDI target.

Meanwhile, relatively low-income countries in South-East Asia seem to be a bright spot for FDI, the report notes. Inflows to Cambodia, Indonesia, Myanmar, the Philippines and Viet Nam continued to grow in 2012. These countries have received an increasing amount of FDI driven by the wish of investors to reduce costs for labour-intensive manufacturing, to harvest mineral resources, and to participate in infrastructure projects. For example, Chinese investment in infrastructure has been increasing in countries such as Indonesia and the Lao People's Democratic Republic, providing new dynamism to intraregional FDI in infrastructure.

Thailand continued to attract higher levels of greenfield investment in 2012, particularly in the automotive and electronics industries, the report says. Some car manufacturers, especially Japanese transnational corporations (TNCs), have been strengthening and expanding their operations in Thailand. In general, TNCs from Japan and elsewhere are boosting their FDI in South-East Asia because of regional integration, good economic prospects for the ASEAN economic community, and emerging opportunities in low-income countries. In the case of Myanmar, foreign investment in extractive industries has contributed to a major share of capital inflows (table 1). This trend is expected to continue.

Total outward FDI from the region of East and South-East Asia in 2012 rose by 1 per cent to $275 billion against the backdrop of a sharp decline in worldwide FDI outflows, the report notes. In East Asia, outflows from China continued to grow, reaching a record $84 billion in 2012 (figure 2). The country is now the world's third-largest source of FDI. FDI outflows from Taiwan Province of China increased slightly, to $13 billion, while those from the Republic of Korea rose by 14 per cent, to $33 billion. Large investments in high-end segments of the electronics industry in China were one of the main drivers of rising outward FDI from these two economies, the report says.

FDI outflows from the ASEAN countries increased by 3 per cent during the year, although outflows from Singapore, the leading source of FDI in the subregion, declined by 12 per cent to $23 billion (figure 2). By contrast, outflows from Malaysia rose by 12 per cent, to $17 billion, and outflows from Thailand climbed by 45 per cent, to $12 billion, the report notes. The rise of these two countries as FDI sources was mainly driven by intraregional investments, the study says.

Figure 1. Top 5 recipients of FDI flows in East and South-East Asia, 2011 and 2012
(billions of US dollars)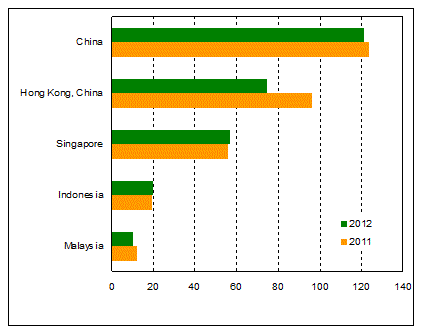 Source: UNCTAD, World Investment Report 2013.
Note: Countries are ranked on the basis of magnitude of 2012 FDI flows.
Figure 2. Top 5 investors from East and South-East Asia, 2011 and 2012
(billions of US dollars)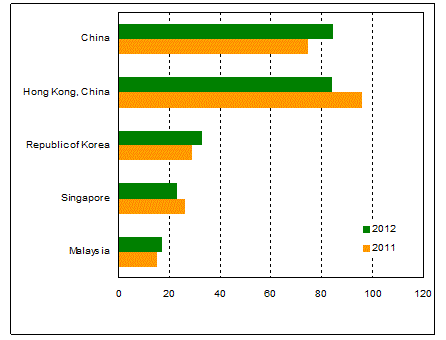 Source: UNCTAD, World Investment Report 2013.
Note: Countries are ranked on the basis of magnitude of 2012 FDI flows. 
Table 1. Foreign participation in extractive industries in Mongolia and Myanmar, selected large projects, 2005–2012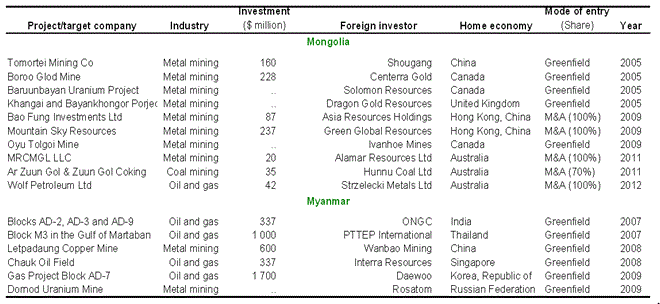 Source: UNCTAD FDI-TNC-GVC Information System, cross-border M&A database, and various media sources
 ​
---