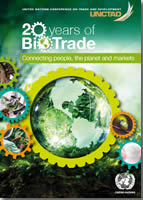 Twenty years ago, the BioTrade Initiative was launched as the UNCTAD response to implementing the 1992 Earth Summit's Agenda 21, the blueprint for sustainable development action into the twenty-first century.
The BioTrade Initiative aims at promoting the conservation and sustainable use of biological resources through international trade and investment. UNCTAD coined the term "BioTrade", which has become recognized in efforts to promote sustainable development and poverty alleviation through trade and investment.
The BioTrade Initiative facilitates and supports national, regional and international BioTrade programmes, partnerships and businesses that have contributed to fighting biodiversity loss while ensuring the sustainable use of biological resources and ecosystems. Activities are implemented in close cooperation with the secretariats of the Convention on Biological Diversity and the Convention on International Trade in Endangered Species of Wild Fauna and Flora on the development of regulatory and institutional frameworks to prevent illicit trade in natural species and to safeguard them.
The experiences, lessons and successes in the articles shared by BioTrade practitioners in this commemorative publication attest to the reach of BioTrade and the BioTrade Initiative. There are now ongoing BioTrade activities in over 20 countries. Efforts cover a range of products and services in a variety of biodiversity-based sectors.
Building sustainable livelihoods, particularly for rural communities and marginalized groups, in biodiversity-rich developing countries is central to the conservation and sustainable use of nature's resources.
Thus, UNCTAD collaborates with Governments, the private sector and international organizations in developing and promoting BioTrade programmes and businesses that adhere to sustainable development principles, ethical sourcing of biological resources, access and sharing of benefits, proper traceability of products derived from biodiversity and awareness raising of the value of nature. Improving income earning opportunities for rural communities can also bring added dividends such as consolidating peacebuilding in post-conflict areas.
Most recently, at the fourteenth session of the United Nations Conference on Trade and Development in Nairobi in July 2016, member States agreed on how the institution should contribute to achievement of the 2030 Agenda for Sustainable Development and its Sustainable Development Goals by fostering inclusive trade and sustainable development policies.
In the Conference's outcome document, the Nairobi Maafikiano, they agreed specifically to "promote sustainable trade in biodiversity products and services to strengthen the sustainability of biodiversity and foster sustainable growth, in close cooperation with other relevant agencies where appropriate".
The agreement marks a new milestone in the evolution of BioTrade and will serve as a the platform through which UNCTAD will act on the 2030 Agenda, especially Sustainable Development Goal 15 which seeks to "protect, restore and promote sustainable use of terrestrial ecosystems, sustainably manage forests, combat desertification, and halt and reverse land degradation and halt biodiversity loss".
Since 1996, UNCTAD has contributed to the evolution of a group of producers, processors and retailers committed to conserving the biodiversity wealth of countries and guaranteeing sustainable use of biological resources under fair and equitable conditions.
Going forward, Sustainable Development Goal 15 sets a path for UNCTAD and the international community to use tried and tested approaches, such as those consistent with the BioTrade Initiative's vision, to conserve and use nature sustainably to meet the needs of present populations without jeopardizing those of future generations.
Mukhisa Kituyi
Secretary-General
United Nations Conference on Trade and Development