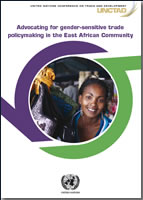 This advocacy document puts forth policy recommendations and introduces an implementation framework based on the findings of the report titled "East African Community regional integration: Trade and gender implications" (UNCTAD, 2018).
The aim of the advocacy document is to influence gender-sensitive policymaking on trade in the East African Community (EAC). The report presents an analysis of gender and trade in EAC member countries and assesses the impact of regional integration on women's well-being, with a focus on women's employment.
Agriculture remains the dominant sector of employment in the EAC, especially for women. However, according to the macro analysis, EAC regional integration and overall trade openness have contributed to a shift over time away from agriculture towards services in the sectoral composition of female employment.
Among EAC members, Rwanda and the United Republic of Tanzania had the strongest change in the sectoral composition of female employment. However, the shift in employment structure remained weak compared to the stronger shift in the sectoral structure of economic activity.
In EAC members, women are also predominantly employed as own-account workers and contributing family workers – the two forms of vulnerable employment – as opposed to men, for whom wage-salary work is relatively more common.
According to the micro analysis, among manufacturing firms, tariff liberalization in export markets for the EAC region led to an increase in women's employment in production tasks in Kenya, the United Republic of Tanzania, and Uganda, while women production workers in Burundi were negatively affected. Similar effects were observed from tariff liberalization in export markets outside the EAC region, but the impact was much smaller.
These employment outcomes for women from trade integration could be explained by technological upgrading induced by trade liberalization, which enables women to have more access to jobs previously dominated by men. It should be highlighted that the positive effects only for production workers might also be indicative of cost-cutting strategies by exporting firms given the significant gender wage gap.
These findings highlight the importance of addressing key dimensions of gender inequalities. Indeed, despite significant progress in adult literacy and primary education, access to secondary and tertiary education continues to be limited, especially for women. Limited access to land and credit also constrains women's successful participation in the economy, particularly as producers.
Despite the introduction of the gender equality requirement into property and inheritance law, there is still a significant gender gap in access to land. Access to formal sources of credit is also limited, more pronouncedly for women.
Time poverty is another supply-side constraint that women face while participating in the economy. EAC members did perform well by international comparison in terms of women's political participation. However, they lag behind with respect to women's participation in managerial positions in firms.
After providing an overview of the major findings, this advocacy document presents a discussion of major policy recommendations and introduces an implementation framework in the following areas: education, employment, access to resources, unpaid work, decision-making, gender policy, gender mainstreaming in trade policy, and examples from other regions.