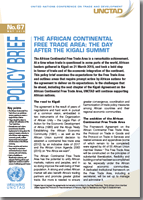 Policy Brief No. 67
The African Continental Free Trade Area is a remarkable achievement. At a time when trade is questioned in some parts of the world, African leaders gathered in Kigali on 21 March 2018, and took a bold step in favour of trade and of the economic integration of the continent.
This policy brief examines the expectations for the Free Trade Area and outlines areas that require prompt action by African nations for the agreement to deliver on its expectations. In the challenges that lie ahead, including the next chapter of the Kigali Agreement on the African Continental Free Trade Area, UNCTAD will continue supporting African nations.
Key points:
The African Continental Free Trade Area is an ambitious venture aspiring to create a single African market.

Steps should be taken to achieve full ratification of the Free Trade Area.

Liberalization and reform commitments should be implemented to bring about the expected massive stimulus to intra-African trade expansion, economic growth, welfare improvement and structural transformation of the African economy.

Some countries and sectors may stand to experience unintended losses in fiscal revenue, jobs and industry.

Built-in flexibilities in liberalization schemes, and adequate flanking policies and adjustment measures would be means of addressing such losses.
Policy recommendations:
In the global economy where megaregional trade agreements are designed to navigate world trade, the Free Trade Area will provide African countries with an opportunity to counteract and respond to current trends. Therefore, the Free Trade Area should be put into effect as soon as possible to maximize its benefits.

Urgent ratification of the signed agreement by 22 signatory countries is essential. It should not follow past experiences of low ratification of treaties.

After the Kigali summit, unfinished business concerning some of the detailed market access conditions should be concluded urgently, including national schedules of tariff concessions and rules of origin. The second phase of negotiations should also be undertaken.

The sensitive and exempted product lists of the Free Trade Area should be considered with caution, as the exemptions of products actually traded among African countries may undermine the trade benefits.

African countries should build and bolster the infrastructure linkages among them, especially in the least developed, landlocked and small island economies, to facilitate the smooth flow of goods across Africa, to boost intra-African trade and make it more inclusive.

To increase the connectivity and efficiency of trade in the Free Trade Area, cooperation on rules of origin, customs, trade facilitation, transit, non-tariff barriers, technical barriers to trade, sanitary and phytosanitary measures, and trade remedies should be enhanced.