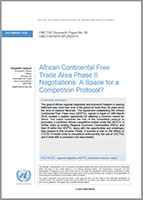 UNCTAD Research Paper No. 56
The goal of African regional integration and economic freedom is nearing fulfilment now more than ever in the period of more than 50 years since the time of Kwame Nkrumah.
The Agreement establishing the African Continental Free Trade Area (AfCFTA), signed in Kigali on 30th March 2018, created a realistic opportunity for attaining a common market for Africa.
This paper examines the role of the competition protocol in promoting a combined African competitive market under the AfCFTA.
It further looks at existing Regional Economic Communities (RECs) and their fit within the AfCFTA, along with the opportunities and challenges they present to this process.
Finally, it includes a brief on the effects of COVID-19 health crisis to competition enforcement, the role of UNCTAD and it ends with a conclusion and way forward.