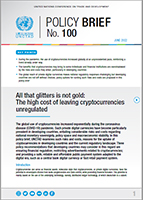 UNCTAD Policy Brief No. 100
The global use of cryptocurrencies increased exponentially during the coronavirus disease (COVID-19) pandemic. Such private digital currencies have become particularly prevalent in developing countries, entailing considerable risks and costs regarding national monetary sovereignty, policy space and macroeconomic stability.
In this policy brief, UNCTAD examines such risks and costs, reasons for the uptake of cryptocurrencies in developing countries and the current regulatory landscape.
Three policy recommendations that developing countries may consider in this regard are ensuring financial regulation; restricting advertisements related to cryptocurrencies; and providing a safe, reliable and affordable public payment system adapted to the digital era, such as a central bank digital currency or fast retail payment system.
Key points:
During the pandemic, the use of cryptocurrencies increased globally at an unprecedented pace, reinforcing a trend already under way.

The benefits that cryptocurrencies may bring to some individuals and financial institutions are overshadowed by the risks and costs they entail, particularly in developing countries.

The global reach of private digital currencies makes national regulatory responses challenging but developing countries are not left without choices; policy options for curbing such risks and costs are proposed in this policy brief.