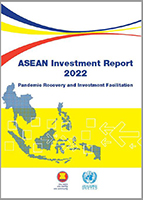 Pandemic Recovery and Investment Facilitation
The ASEAN Investment Report is an annual report analysing investment and related issues in ASEAN. It is prepared under a technical cooperation arrangement between the ASEAN Secretariat and UNCTAD, supported by the ASEAN-Australia Development Cooperation Program Phase II.
---
Inflows of foreign direct investment (FDI) in ASEAN increased by 42 per cent in 2021 to $174 billion, the pre-pandemic record level (figure 1). The rebound underscores the resilience of the region, which has been battered by successive waves of the pandemic. The recovery in ASEAN compares favourably with the 30 per cent average growth in developing economies (WIR 2022).
Six Member States recorded a rise in inflows and in two, inflows remained flat. This contrasted with the situation in 2020 when only two Member States recorded a rise.
ASEAN remained a top recipient of FDI in developing regions (second after China in 2021) and continued to be an engine of growth. The region's share of global FDI inflows rose from a pre-pandemic annual average of 7 per cent in 2011–2017, to 11 per cent in 2018–2019, to 12 per cent in 2020–2021. Strong inflows pushed up FDI stock in the region to $3.1 trillion, an increase of 72 per cent from 2015 ($1.8 trillion).