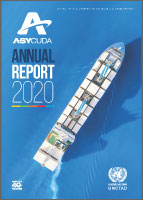 2021 marks the 40th anniversary of the ASYCUDA Programme. Today, ASYCUDA's flagship software, ASYCUDAWorld, is used in around 100 countries and territories, delivering the latest web-based technology.
This annual report details progress made by the programme in 2020, amidst the COVID-19 pandemic which reduced physical contact and increased the urgency for the importation of medicines and essential goods. As for so many organizations, the pandemic changed how the ASYCUDA Programme operates – with a greater need for remote assistance and shift to virtual capacity building, increased paperless processing, and automation.
ASYCUDA proactively supported user-countries, guiding customs administrations on adapting ASYCUDAWorld to COVID-19 enforced restrictions. It allowed user-countries to change their ways of doing business while generating the data required for risk-based decision-making. The ASYCUDA COVID-19 Customs Administration Survey improved understanding of the challenges being faced by customs administrations and helped maximize the benefits of UNCTAD's guidelines for coping with COVID-19 measures. Recognizing ASYCUDA's real-world impact, initiatives such as the United Nations Development Account provided resources for the Programme to respond to the crisis.
To highlight some real-life examples from 2020: in Lebanon, since customs were running the cloud based ASYCUDAWorld, following the blast at the Port of Beirut, no data was lost, and 350 containers, including humanitarian and relief consignments, were imported the next day. Another example is the ASYCUDA Sanitary and Phytosanitary module, ASYSPS, rolled out to help Vanuatu Biosecurity to automate the process of applying, approving, and paying for SPS certificates – speeding up customs clearance while protecting the country's food, animal, and plant health. Finally, the ASYCUDA Programme with the Secretariat of the Convention on International Trade of Endangered Species of Wild Fauna and Flora (CITES), piloted in Sri Lanka a cloud-based electronic permit system, eCITES, that automates permit application, processing, issuance, and reporting.
In a challenging year, ASYCUDA demonstrated flexibility and innovation, providing excellent value to user-countries. As focus turns to UNCTAD15 – and transitioning from inequality and vulnerability to prosperity for all – at UNCTAD, we are proud of the achievements of ASYCUDA and the role it plays in facilitating trade to enable less advanced countries to prosper, thrive, and improve the livelihoods of their citizens – ultimately accelerating progress towards the Sustainable Development Goals.