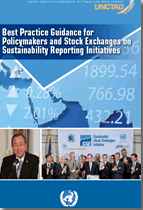 Today the world faces a number of critical development challenges, from chronic poverty and economic instability to climate change and harmful emissions. The United Nations is working to identify and address some of the world's greatest challenges through the formulation and then implementation of sustainable development goals. As part of the United Nations post-2015 agenda, the sustainable development goals will play a crucial role in catalysing efforts to address the urgent challenges of the twenty-first century. Every institution, in every sector, will have a moral imperative to contribute to these goals. This is our common challenge, to secure our common future.
Sustainability reporting plays an important role in providing the tools that will be needed to implement the sustainable development goals. High-quality corporate reporting on the environmental and social issues that businesses face can help identify targets and measure progress. Such reporting can play an important role in driving investment to sustainable business practices, financing the sustainability outcomes that the world seeks.
The demands of investors and other stakeholders for improved sustainability reporting have already begun to bear fruit. In recent years, policymakers and stock exchanges around the world have been greatly accelerating their efforts in this area. The stock exchanges in Brazil and South Africa, for instance, have become leading examples of promoting corporate sustainability reporting – examples that even exchanges in more developed countries look to for lessons. Government regulators from France to India, from Sweden to China, have begun introducing new rules requiring corporate sustainability reporting.
In 2009, United Nations Secretary-General Ban Kimoon launched the Sustainable Stock Exchanges initiative, an effort co-organized by UNCTAD, the Global Compact, the United Nations-supported Principles for Responsible Investment and the United Nations Environment Programme Finance Initiative. Since that time the Sustainable Stock Exchanges has seen major stock exchanges around the world sign its voluntary public commitment to promote improved corporate reporting – and ultimately performance – on environmental, social and governance issues.
We are not at the end of this work, but we are at the end of the beginning of this work. With more than a decade of sustainability reporting experiences to look back upon, we have today enough examples that we can begin to talk of best practices and share the lessons learned.
In 2012 at the United Nations Rio+20 Conference, member States reiterated "the importance of corporate sustainability reporting", in the context of sustainable economic growth. Member States called on the United Nations to assist industry, interested Governments and relevant stakeholders to develop models for best practice. The United Nations Secretary-General appointed UNCTAD as an official implementing body for this call to action. This guidance is UNCTAD's first response to this call to action. Developed through the UNCTAD Intergovernmental Working Group of Experts on International Standards of Accounting and Reporting, the guidance benefits from the inputs of leading stock exchanges and accounting professionals, investors and standard setters. The guidance serves as a voluntary technical tool and provides an opportunity to share best practice experiences in this area.
Mukhisa Kituyi
Secretary-General of UNCTAD