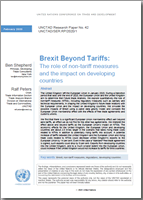 UNCTAD Research Paper No. 42
The United Kingdom left the European Union in January 2020. During a transition period that lasts until the end of 2020, the European Union and the United Kingdom aim to determine their future trade relations.
In this Research Paper, we explore quantitatively the role of non-tariff measures (NTMs), including regulatory measures such as sanitary and technical requirements, in shaping the United Kingdom's future trade relations with the European Union and the impact on developing countries. We simulate the possible impacts of Brexit using a panel data gravity model and compare the European Union membership effect with the effects of free trade agreements and customs unions.
The Paper finds that there is a significant European Union membership effect well beyond zero tariffs, an effect we do not find for the other two agreements. It interprets the effect above and beyond tariffs as the European Union's impact on NTMs.
The economic effects for the United Kingdom, the European Union and developing countries are about 2.5 times larger in the scenario that takes rising trade costs related to NTMs in addition to potentially rising tariffs into account.
A potential increase of tariffs between the United Kingdom and the European Union and rising trade costs related to NTMs could decrease United Kingdom's exports to the European Union by 14 per cent. Even in the case a "standard" free trade agreement is signed, such exports could drop by 9 per cent.
Exports from developing countries into the United Kingdom, and to a much smaller extent into the European Union, could increase if the United Kingdom would not increase its tariffs for third countries.