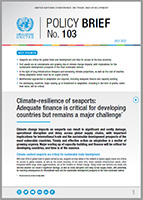 UNCTAD Policy Brief No. 103
Climate change impacts on seaports can result in significant and costly damage, operational disruption and delay across global supply chains, with important implications for international trade and the sustainable development prospects of the most vulnerable countries.
Timely and effective action on adaptation is a matter of growing urgency.
Major scaling up of capacity-building and finance will be critical for developing countries, and time is of the essence.
Key points:
Seaports are critical for global trade and development and vital for access to the blue economy.
Port assets are at considerable and growing risk of climate change impacts, with implications for the sustainable development prospects of the most vulnerable nations.
In the light of long infrastructure lifespans and worsening climate projections, as well as the cost of inaction, timely adaptation action must be an urgent priority.
Multifaceted approaches to adaptation are required, including adequate finance and capacity building.
For developing countries, major scaling up of investment in adaptation, including in the form of grants, rather than loans, will be critical.