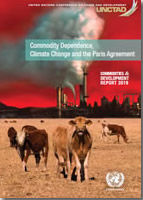 Commodity Dependence, Climate Change and the Paris Agreement
The 2019 edition of the Commodities and Development Report is titled "Commodity Dependence, Climate Change and the Paris Agreement". It seeks to further the understanding of the interactions between climate change and the commodity sectors.
The report highlights the challenges that commodity dependent developing countries (CDDCs) face as they manage their natural resource sectors in the context of the Paris Agreement. It also explores some potential benefits that might arise from climate change mitigation and adaptation.
The report recommends that CDDCs should reduce their strong economic dependence on natural resources through economic and export diversification. Acknowledgement of the limited capabilities of CDDCs to cope with mitigation and adaptation challenges implies that CDDCs require a unique set of incentives as well as financial, technical and institutional assistance to cope with the challenges associated with the climate crisis.
The report underscores the need to raise the level of ambition and commitment in tackling climate change. Indeed, the extraction and consumption of highly polluting fossil fuels such as coal, oil and gas continue to increase unabated, exacerbating the climate crisis. Moreover, the staggering amounts that many countries are still spending on fossil fuel subsidies are an indication that more work needs to be done in terms of aligning domestic policies with the overarching objective of climate change mitigation and adaptation.
The low ambition of commitments by major countries to counter climate change, the very countries that are largely responsible for creating this problem, combined with the lacklustre response to calls for assisting developing countries to adapt to the consequences of climate change, indicate that more leadership is needed at the international level in order to rise to the challenge posed by the climate crisis.