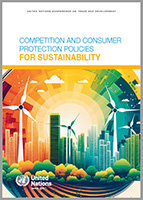 This report delves into the intersection of competition and consumer protection policies with sustainability.
It highlights the crucial role that both policies can play in encouraging business innovation, investment and competition on sustainability assuming that consumers are well-informed and value sustainability.
The report also explores how competition law relates to sustainability while taking stock of initiatives undertaken by competition authorities.
Furthermore, the report addresses the promotion of sustainable consumption through the lens of consumer protection policy, offering examples from various jurisdictions on consumer information and education, business initiatives towards consumers, and enforcement and guidance actions undertaken by consumer protection authorities.