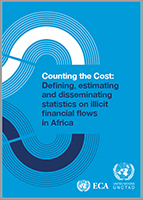 Illicit financial flows (IFFs) have a substantial and crippling effect on societies and economies, not only on the African continent, but also around the world. The COVID-19 pandemic, the war in Ukraine and the increasing costs of climate change and environmental challenges have had a particularly devastating impact on developing economies, highlighting the critical need for addressing the financing gap.
IFFs drain resources that would be needed to fulfil human rights and pursue sustainable development. Domestic resource mobilisation, assets recovery and curbing IFFs is more critical than ever.
A United Nations Development Account Project on Defining, estimating and disseminating statistics on illicit financial flows in Africa was initiated to address the lack of accepted standards in measuring flows.
The project has led to globally agreed definitions, methodology and tools for producing more reliable and comparable estimates of the flows. This in turn has strengthened the statistical capacity of African countries and empowered them to develop more effective policies for measuring and tackling these flows.
These resources are now available at the UNCTAD website for all countries dedicated to tackling IFFs and to enable them to measure and report on SDG indicator 16.4.1 "Total value of inward and outward illicit financial flows"