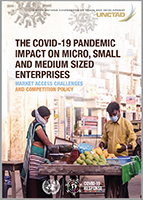 Market access challenges and competition policy
Formal and informal micro, small and medium-sized enterprises (MSMEs) make up over 90% of all firms and account, on average, for 70% of total employment and 50% of gross domestic product (GDP). So providing the right support to MSMEs is key to ensuring a sustainable and inclusive recovery from the COVID-19 pandemic.
This report provides a snapshot of the current competition and market access challenges faced by MSMEs around the world as they seek to deal with the impact of COVID-19 on their operations. It focuses on the competition-related challenges caused by the pandemic, the ability to access existing and new markets, regulatory responses to the situation that especially affect MSMEs, and related observable trends relevant to small and medium enterprises. It concludes with a few recommendations for future action by national governments and international organizations.
While examples are provided from a wide range of different nations around the world, the principal focus is on developing countries and their MSME populations. Many MSMEs today are on the cusp of closure or have already been forced to exit. Many of those still trading remain highly vulnerable. Surviving firms will also have to deal with a changing business landscape in the future, with many patterns of sales, distribution and consumer behaviour having been substantially and permanently altered.
Two intertwined critical issues in dealing with the current pandemic, and in the eventual recovery of national economies from it, are that of market access and competition policy for MSMEs. Countries are taking a variety of different responses to these two issues. In the competition arena, enforcers exceptionally relaxed a few anti-competitive provisions, and many are now focusing for the first time on the impact these decisions might have on MSMEs. A few different measures are being taken to assist MSMEs to retain or gain access to markets and consumers.
Six principal trends can be identified that are common across most nations:
Governments are placing a priority on propping up existing firms.
Substantially more coordinated economic activity is being approved by competition authorities.
Market access is being hindered by inter- and intra-national restrictions on the movement of people, goods and services.
MSMEs are moving online and seeking to enhance their ability to access markets using digital technology.
More competition authorities are working directly with MSME agencies and MSME associations.
Informal sector MSMEs are increasingly being recognized as an important factor in both competition and market access policy considerations.
Some recommendations are made for future action by governments and agencies of individual member states, in some cases with the support of international organizations. These are a mixture of possible regulatory measures, greater engagement with MSME representative organizations, training and capacity-building activities, and other actions. While some are focused on competition issues, steps are also suggested to improve the ability of MSMEs to access both international and domestic markets.