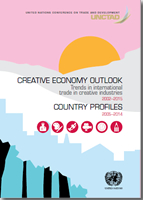 The creative economy is recognized as a significant sector and a meaningful contributor to national gross domestic product. It has spurred innovation and knowledge transfer across all sectors of the economy and is a critical sector to foster inclusive development.
The creative economy has both commercial and cultural value. Acknowledgement of this dual worth has led governments worldwide to expand and develop their creative economies as part of economic diversification strategies and efforts to stimulate economic growth, prosperity and well-being.
Within it, the creative industries generate income through trade and intellectual property rights, and create new opportunities, particularly for small and mediumsized enterprises.
Creative work promotes fundamental rights, such as respect for human dignity, equality and democracy, all of which are essential for humans to live together in peace. Its potential to make a significant contribution to the achievement of the sustainable development goals continues to gain international recognition and support.
Whether it be arts and crafts, books, films, paintings, festivals, songs, designs, digital animation or video games, the creative industries are more than just sectors with good economic growth performance and potential. They are expressions of the human imagination spreading important social and cultural values.
This report outlines trends in the world trade of creative goods and, for the first time, services by country for the period 2005 to 2014, and provides an outlook on the global creative economy for the period 2002 to 2015.
The report includes country profiles for 130 economies and highlights potential opportunities for developing countries to increase their production, exports and share in creative industries markets. The report makes the point for increased public and private sector investment in creative industries.
I warmly commend this report which shows how developing countries are harnessing creativity to transform and diversify their economies.

Mukhisa Kituyi
Secretary-General of UNCTAD