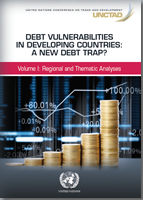 Yet again, unsustainable international debt burdens haunt the developing world and are fast becoming a core obstacle to the international community delivering on its repeated promises to enable sustainable development finance.
For the best part of two decades, the driving motor of the global economy has been debt, issued on a whim and traded for speculative purposes, rather than backing productive and long-term investment, including into the structural transformation of developing economies.
The two volumes of this publication gather a range of contributions on specific aspects of this important and large topic.
Volume I brings together papers that analyse different regional aspects of evolving debt dynamics in the developing world, detailing many of the issues raised in this introduction in these specific contexts. It also introduces an additional, and often neglected, wider feature of these debt dynamics, namely the role of microdebt crises across the developing world and the bankruptcy of the microcredit model.
Volume II turns to selected topics and policy options to mitigate developing country debt vulnerabilities in current circumstances, in which a 'new global deal' is unlikely to garner the required international political support.
ABOUT THE AUTHORS
Bruno Bonizzi is Lecturer in Political Economy. He holds a PhD and a master's degree from the School of Oriental and African Studies (SOAS), University of London. He has taught at City University and the University of East London. His doctoral research focussed on pension funds and their investments in emerging market economies. Financialisation, pension funds and developing countries feature prominently in his current research projects.
Jan Toporowski is Professor of Economics and Finance at SOAS, University of London. He studied economics at Birkbeck College, University of London and the University of Birmingham, UK. He has written widely on financial macroeconomics. His major works include Michael Kalecki: An Intellectual Biography, volume I, Rendezvous in Cambridge 1899-1939 (2013).Why the World Economy needs a Financial Crash' and other critical essays on Finance and Financial Economics.(2010), Theories of Financial Disturbance. An Examination of Critical Theories of Finance from Adam Smith to the Present Day. (2005) and The End of Finance: The Theory of Capital Market Inflation, Financial Derivatives, and Pension Fund Capitalism (2000).
Annina Kaltenbrunner is Lecturer in the Economics of Globalisation and the International Economy at Leeds University Business School. She holds a PhD and MSc in Development Economies from the School of Oriental and African Studies (SOAS), a Postgraduate Certification in Econometrics from Birkbeck, and an undergraduate degree in Economics from the Vienna University of Economics and Business Administration. Her areas of research are development economics, international finance, monetary economics, international political economy, heterodox economics and methodology. She has published on exchange rate theory, currency internationalisation, financial integration, financialisation, and the Eurozone Crisis.
Yuefen Li is Special Advisor on Economics and Development Finance at the South Centre, Geneva. Previously, she was Head of Debt and Development Finance Branch, Division of Globalization and Development Strategies at UNCTAD. She has published widely in books and journals on debt, finance and other economic issues and contributed extensively to UNCTAD publications and documents.