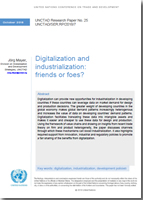 UNCTAD Research Paper No. 25
Digitalization can provide new opportunities for industrialization in developing countries if these countries can leverage data on market demand for design and production decisions.
The greater weight of developing countries in the global economy makes global demand patterns increasingly heterogenous and increases the value of data on developing countries' demand patterns.
Digitalization facilitates translating these data into intangible assets and makes it easier and cheaper to use these data for design and production.
Using the framework of value chains and drawing on insights from recent trade theory on firm and product heterogeneity, the paper discusses channels through which these mechanisms can boost industrialization.
It also highlights required support from innovation, industrial and regulatory policies to promote a fair sharing of the benefits from digitalization.