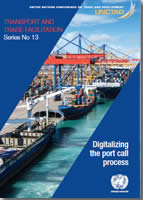 Transport and Trade Facilitation Series No. 13
This study has been compiled by Mikael Lind, Robert Ward, Michael Bergmann, Sandra Haraldson, and Almir Zerem with the Research Institutes of Sweden (RISE).
It reflects the insights gained by the Port Collaborative Decision Making(PortCDM) team at RISE during the last seven years of applied research and innovation efforts on data sharing and collaboration within the maritime sector.
The study identifies the principal tensions and opportunities arising that are impacting the inevitable and ongoing digitalization process that is underway in the maritime sector, particularly through the authors' experience in the development and subsequent validation of the PortCDM concept.
It also identifies the trends of development at large and those associated with the many stakeholders that are involved in global maritime operations.
The digital trends emerging in shipping companies, ports with its actors, authorities and associations, and movements that are being made by diverse digital solution providers, within and outside the maritime domain are also identified.
The discussion is taken from the point of view of shipping as a global phenomenon enabled by ship movements creating a global network of sea transport facilitated by ports.
In this global transport network, the ports are playing a key role by being nodes in the global transport system.
During the last decade, various efforts have been made to enhance the coordination / synchronization / optimization of port call operations. One of those is PortCDM, an international, independent and product agnostic concept of mutually beneficial near real-time digital data sharing.
PortCDM acknowledges that a "one size fits all" solution is most inappropriate in a dynamic, flexible, digitally enhanced business environment, so it concentrates on providing generic guidelines and standards that can be adapted and applied at the regional and local level.
PortCDM provides operational and technical guidelines for supporting port call actors to pursue more predictable timings and operations based on a common and shared understanding of timings and plans and by making existing processes more effective and efficient.