E-Commerce and Digital Economy Programme: Year in Review 2021
E-Commerce and Digital Economy Programme: Year in Review 2021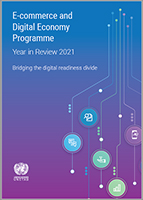 Bridging the digital readiness divide
With the world still in the grips of the COVID-19 pandemic, last year further underscored the value of being able to harness digital opportunities for economic resilience and sustainable development. At the same time, as wide digital divides remain, countries' readiness to "go digital" varies considerably. And as brought out in our Digital Economy Report 2021, the pandemic may well result in deepening existing divides and accentuating inequalities.
This makes the E-commerce and Digital Economy (ECDE) work programme all the more relevant, as recognized by all UNCTAD's member States. The main outcome document from UNCTAD's 15th Ministerial Conference – The Bridgetown Covenant – which sets the basis for our work for the next few years, calls for strengthening the work on assisting developing countries to enhance their readiness to engage and integrate into the digital economy, thus contributing to the closing of the digital divide. In doing so, the Covenant reinforces UNCTAD's mandate to work on enhancing development gains from the digital economy.
I deeply appreciate the faith member States are placing in the Programme, which continues to receive a high number of requests for support. Against this background, I am also grateful to our donors and partners, without whom we would not be able to deliver the work programme. In 2021, we welcomed Switzerland on board as a new core donor together with Germany and the Netherlands. We also had our first meeting of the new Core Donor Advisory Board, which will serve as a platform for transparent interaction between UNCTAD and the core donors as well as among the core donors. Two new organizations also joined the eTrade for all initiative: the British Standards Institution and the Economic Research Institute for ASEAN and East Asia.
The ECDE Programme has significantly expanded in the past few years. Nevertheless, it will need to continue to grow in order to meet the expectations signaled through the strengthened mandate from UNCTAD's member States and to foster a more inclusive digital future as we recover from the pandemic. The importance of enhancing digital cooperation and digital governance is also underlined in the United Nations Secretary-General's "Our Common Agenda".
In this Year in Review you will find out more about the many activities and results achieved during 2021 in our newly created E-commerce and Digital Economy Branch.
Shamika N. Sirimanne
Director, Division on Technology and Logistics
---