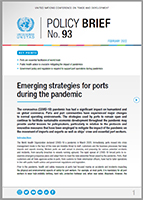 UNCTAD Policy Brief No. 93
The coronavirus (COVID-19) pandemic has had a significant impact on humankind and on global commerce. Ports and port communities have experienced major changes to normal operating environments.
The strategies used by ports to remain open and continue to facilitate sustainable economic development throughout the pandemic may provide useful lessons for policymakers, particularly in relation to the protocols and innovative measures that have been employed to mitigate the impact of the pandemic on the movement of imports and exports as well as ships' crew and essential port workers.
Key points:
Ports are essential facilitators of world trade
Public health advice is crucial in mitigating the impact of pandemics
Government policy and regulation is required to support port operations during pandemics