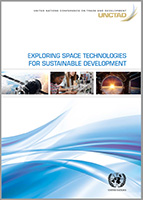 The United Nations has a long history of promoting greater international collaboration in outer space and the use of space technologies for sustainable development. The United Nations Office for Outer Space Affairs was created in 1958 and in 2019 the international community celebrated the fiftieth anniversary of the first United Nations Conference on the Exploration and Peaceful Uses of Outer Space. In recent years, there has been increasing interest among countries in the use of space applications for sustainable development, especially to achieve the Sustainable Development Goals. In this context, in May 2019, the United Nations Commission on Science and Technology for Development selected as one of its priority themes for its twenty-third session the topic of exploring space technologies for sustainable development and the benefits of international research collaboration in this context.
Space science, technology and data have the potential to contribute in direct or indirect ways to all of the Sustainable Development Goals.
This report highlights the potential opportunities of spaceenabled technologies for delivering on the Sustainable Development Goals and proposes science, technology and innovation policy options for harnessing space technology for sustainable development. The report also discusses the role of regional and international research collaboration to support such efforts. The achievement of ambitious global goals in widely differing local contexts requires the combination of space capabilities with detailed local knowledge. Global research collaboration offers great potential to contribute to this process, providing opportunities to both create new knowledge and increase the impact of research by diffusing existing knowledge.
The report is structured as follows:
Chapter I provided an introduction.

Chapter II reviews the different applications of space technologies for sustainable development, including in ensuring food security, health applications, access to telecommunications, reducing disaster risks, preventing humanitarian crises, monitoring natural resources and reducing poverty.

Chapter III highlights recent technological developments in space technologies and examines the bottlenecks in the use of space technologies for sustainable development in developing countries and in an international context.

Chapter IV identifies effective forms and areas of international scientific research in space technologies by highlighting case studies of various collaborative research and development-focused initiatives.

Chapter V highlights successful policies and strategies at the national, regional and international levels that can promote harnessing space technologies for the Sustainable Development Goals.
(UNCTAD/DTL/STICT/2021/1)
-
26 Apr 2021