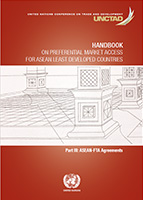 ASEAN-FTA Agreements
This handbook is intended to help producers, traders and exporters understand and apply the preferential rules of origin available to least developed country (LDC) members of the Association of Southeast Asian Nations (ASEAN) under free trade agreements (FTAs).
At the time of publication, the LDC members of ASEAN are Cambodia, the Lao People's Democratic Republic and Myanmar.
This handbook analyses and compares the following FTAs (together, the ASEAN FTAs):
ASEAN Trade in Goods Agreement (ATIGA)
ASEAN – Australia – New Zealand Free Trade Area (AANZFTA)
ASEAN – India Free Trade Agreement (AIFTA)
ASEAN – China Free Trade Area (ACFTA)
ASEAN – Japan Comprehensive Economic Partnership Agreement (AJCEP)
ASEAN – Republic of Korea Free Trade Agreement (AKFTA)
ASEAN – Hong Kong, China Free Trade Agreement (AHKFTA)
This publication is part III of UNCTAD's Handbooks on Duty-free Quota-free Market Access and Rules of Origin for Least Developed Countries series.
Part I refers to QUAD countries (namely Canada, the European Union, Japan and the United States of America)
Part II covers other developing and developed countries.
This publication, Part III covers ASEAN FTAs with dialogue partners.
(UNCTAD/ALDC/2018/5 (Part I))
-
09 Oct 2018
(UNCTAD/ALDC/2018/5 (Part II))
-
09 Oct 2018