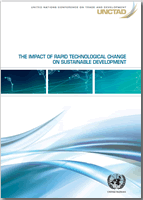 Recent decades have seen a dramatically accelerating pace in the development and adoption of new technologies, even though various gaps persist in terms of adoption in different parts of the world, especially in the least developed countries. This rapid technological change is affecting almost every area of the economy, society and culture.
Rapid technological change involves, among others, technologies like big data, the Internet of things, machine learning, artificial intelligence, robotics, 3D printing, biotechnology, nanotechnology, renewable energy technologies, and satellite and drone technologies. These represent a significant opportunity to achieve the 2030 Agenda and the Sustainable Development goals.
At the same time, rapid technological change poses new challenges for policymaking. It can outpace the capacity of Governments and society to adapt to the changes that new technologies bring about, as they can affect labour markets, perpetuate inequalities and raise ethical questions.
This paper responds to General Assembly resolution 72/242, which requests that CSTD, through the Economic and Social Council, to give due consideration to the impact of key rapid technological changes on the achievement of the Sustainable Development Goals.
CSTD seeks to deepen the understanding of the impact of rapid technological change on sustainable development, especially the consequences for the central principle of the 2030 Agenda of leaving no one behind, and the implications for the science, technology and innovation community.
It examines the opportunities, risks and challenges brought about by rapid technological change and looks at the role of science, technology and innovation (STI) policy.
It identifies strategies, policies and immediate actions to take to use science, technology and innovation to empower people, especially those who are vulnerable, and ensure inclusiveness and equality.