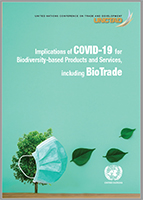 This report examines the implications of the COVID-19 pandemic for stakeholders involved directly or indirectly in the production and trade of biodiversity-based products and services, including those sustainably sourced and traded as BioTrade products and services. It is based on the findings of a survey questionnaire that was circulated between 22 December 2020 and 28 February 2021.
This study starts with an analysis of the opportunities provided by the pandemic to certain organizations by investigating the nature of positive impacts, in particular in terms of shifts in demand, access to markets and increased sustainability efforts.
It then looks at the challenges respondents' organizations faced since the advent of the pandemic, in terms of different types of impacts, their duration and the extent of their severity, as well as how it affected their revenues.
Finally, the report focuses on the different types of solutions implemented by respondents' organizations to navigate the exceptional circumstances brought by the pandemic. Solutions specifically relate to measures implemented in response to the pandemic, to the shift towards the digital space in the face of reductions in personal mobility and in-loco operations.
It also assessed the different forms of government support specific to the pandemic that were provided to stakeholders and their impacts.
Recommendations extrapolated from survey responses:
Improve access to and availability of government support. Governments need to ensure that the needs and circumstances of biodiversity-based stakeholders are considered when designing and implementing support measures aimed to mitigate the impacts of external shocks and support its recovery, e.g., post-COVID-19 recovery. Efforts are needed not only ensure that the flow of information reaches biodiversity-related stakeholders, particularly those in remote and rural areas, but that there is also assistance to guide or coach them in accessing this support.

Support private sector stakeholders in accessing markets emerging from the pandemic and to generate a sustainable economic transformation. The pandemic can create opportunities for businesses to develop sustainable practices, strategies, as well as products and services. An enabling policy environment as well as a network of support organizations can assist businesses in this transformation.

Support biodiversity-based stakeholders, particularly SMEs and Micro-SMES and rural communities in developing and/or implementing digital solutions. Benefiting from and using digital solutions is essential for all stakeholders in the current and post-pandemic era, and efforts must be sought to ensure that all actors, including SMES, Micro-SMEs and rural communities are not left behind.

Foster the implementation of diversification strategies. To cope with the pandemic and be more resilient, stakeholders have implemented a series of diversification strategies. However, support is needed to assist them in developing effective strategies, by providing information, knowledge and expertise that is not necessarily available for all actors.

Conduct regular updates and follow-ups to the responses which will enable to compare and assess the impact of the pandemic to the target stakeholders but also assess government support measures that are more adequate to address the needs of biodiversity-stakeholders.