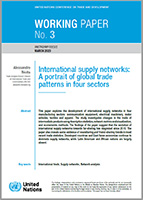 Working Paper, No. 3
This paper explores the development of international supply networks in four manufacturing sectors: communication equipment, electrical machinery, motor vehicles, textiles and apparel.
The study investigates changes in the trade of intermediate products using descriptive statistics, network metrics and visualization, and econometric methods.
The findings of the paper suggest that the evolution of international supply networks towards far-shoring has stagnated since 2015.
The paper also reveals some evidence of nearshoring and friend-shoring trends in most recent trade statistics. Developed countries and East Asian economies continue to dominate supply networks, while Latin American and African nations are largely absent.
---
The findings, interpretations and conclusions expressed in this document are those of the author(s) and do not necessarily reflect the views of the United Nations or its officials or Member States.
The designations employed and the presentation of material on any map in this work do not imply the expression of any opinion whatsoever on the part of the United Nations concerning the legal status of any country, territory, city, or area or of its authorities, or concerning the delimitation of its frontiers and boundaries.