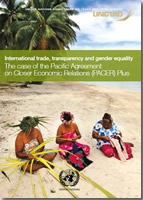 This report examines the potential implications of the transparency provisions in the Pacific Agreement on Closer Economic Relations (PACER) Plus for gender outcomes in the region of nine Pacific island countries -Kiribati, Nauru, Samoa, Solomon Islands, Tonga, Tuvalu, Vanuatu, the Cook Islands and Niue - that signed the PACER Plus agreement with Australia and New Zealand in 2017. It also examines the socioeconomic, gender, and trade profiles of the nine Pacific island countries and discusses the gender implications of trade.
The nine Pacific Island countries share the economic features, challenges, and opportunities of small island developing states. The main challenge is their "smallness" with respect to area, population, and economies, which is a key driver of their economic vulnerability because it implies small domestic economies and a narrow resource base, resulting in limited production, export, and employment opportunities. Given these challenges, the PACER Plus agreement has taken into account the different levels of development among the Parties and included provisions for financial and technical support to be provided by Australia and New Zealand to the nine developing partners.
Lack of transparency of business procedures and regulations has a particularly detrimental effect on women, as getting access to information, including information related to trade rules and customs procedures, is more cumbersome for women than for men. With complex, opaque, and time-consuming customs procedures and product requirements, women may be discouraged from taking advantage of the new trade opportunities arising from the Pacer Plus Agreement. Strong social norms on gender relations and unequal distribution of resources add to these challenges.
The report argues that even though gender equality is not an explicit goal of the transparency provisions of Pacer Plus, there are several potential channels through which they may positively impact gender equality. The benefits from increased transparency in trade are expected to directly affect women entrepreneurs, producers, and traders even though the spillover effects may impact a larger number of women in different economic roles. Improved access to information, better predictability in the application of trade rules, reduced cost (both time and money) to trade, and reduced hidden costs such as illegal fees and bribery - all of which are expected to result from increased transparency - would create new trade opportunities and a more favorable trade environment for women. Greater trade potential for existing traders and new trade opportunities for the newcomers would help increase women's employment and income levels by easing their transition from the subsistence sector and informal economy to formal and sustainable economic and trade activities.