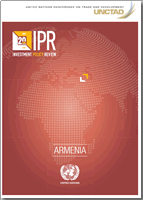 Armenia is no exception to the global foreign direct investment (FDI) trend, with flows struggling to recover from the heights reached before the financial crisis. Increasing the levels of foreign and domestic investment in Armenia is needed to achieve the Government's vision of fighting poverty and unemployment through a structural transformation of the economy. This will require investment policy reforms and a more significant investment promotion effort.
The IPR highlights the country's investment and export potential across a range of economic activities, including the booming high-tech industry, tourism, textile and garments, wine, agri-business and pharmaceuticals. It also explores nascent activities in business process outsourcing, regional logistics and food safety, aircraft repair and maintenance, regional financial services and higher education.
Beyond measures to tap the export potential through investment, the IPR includes the broader policy objective of promoting inclusive growth and sustainable development. It underlines specific measures for creating employment and linkages with local suppliers, including by moving to full package manufacture in the textiles and garments industry, and extending benefits of tourism to areas outside the capital Yerevan. The IPR also shows ways to deepen the high-technology sector and make Armenia a leading hub for innovation, data science and artificial intelligence. It outlines how to extend research and development capability in the pharmaceutical industry to transform a small generics industry into larger-scale manufacturing.