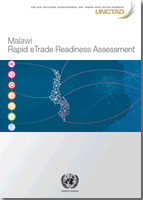 Malawi's Rapid eTrade Readiness Assessment is the twenty-first of such assessments conducted by UNCTAD.
Malawi is a country with great potential. With more than 70% of its population under the age of 29, e-commerce can provide tremendous opportunities to young Malawians and aspiring women entrepreneurs, thus contributing to more inclusive and sustainable development.
E-commerce has the potential to boost economic performance, diversify sources of incomes and improve access to markets, trade information and productivity, all of which are key to enhancing national capacities and meeting the country's development ambitions.
The assessment report recommends the adoption of a series of fundamental reforms in several policy areas – primarily related to the internet infrastructure, regulatory improvements and institutional strengthening – to allow Malawians reaping the benefits of a fast-growing digital economy.
This report is expected to contribute to the efforts of the Government of Malawi to build a robust, safe and business-friendly e-commerce and digital economy environment. UNCTAD and its eTrade for all partners are committed to supporting Malawi in its resolve to make e-commerce work for the country's economic and social development.
The Malawi assessment was made possible by the contribution of the Enhanced Integrated Framework (EIF).