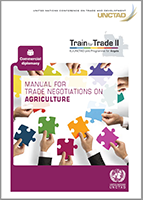 Agriculture is both an important and sensitive sector in many countries. Negotiations on liberalizing trade in agriculture concern numerous issues and therefore are complex.
This manual provides an overview of the pattern of agricultural trade, salient features of the WTO Agreement on Agriculture (AoA), implementation of commitments and status of current negotiations in various areas. Three key pillars of trade in agriculture, namely market access, domestic support and export competition, are discussed with an emphasis on the impact of potential policy changes on development. Moreover, it also covers cross- cutting issues, such as special and differential treatment (SDT) for developing and least developed countries, state trading, cotton initiative and non-trade concerns. The manual also gives some examples of trade disputes relating to the AoA and potential avenues to achieving progress in the on-going negotiations on agriculture.
The manual is structured as follows. Following introduction, Part I explores importance of agriculture sector and pattern of agricultural trade in developing world; Part II outlines the main features of the AoA and other related rules governing trade in agriculture and Part III gives an overview of the current trade negotiations on agriculture.
The rationale for subjecting market access, domestic support and export subsidies to General Agreement on Tariffs and Trade (GATT) disciplines, agriculture in the context of regional trade agreements, settled disputes in agricultural trade and the negotiating groups active in the Doha Round are given in four appendices.
---
A agricultura é um sector importante e sensível tanto nos países desenvolvidos como nos países em desenvolvimento. A razão é que as questões nas negociações sobre agricultura são numerosas e complexas.
O presente manual apresenta uma visão geral do padrão do comércio agrícola, das características salientes do Acordo sobre a Agricultura da OMC, da implementação de compromissos e do estado das negociações em curso em várias áreas. São discutidos três pilares fundamentais do comércio agrícola: o acesso aos mercados, o apoio interno e a concorrência nas exportações, com ênfase no impacto das potenciais modificações de política no desenvolvimento. Além disso, abrange igualmente outras regras relacionadas que regem o comércio na agricultura e questões transversais, como o tratamento especial e diferenciado (TED) para os países em desenvolvimento e os países menos desenvolvidos, o comércio estatal, a iniciativa relativa ao algodão e as preocupações não comerciais.
O manual está estruturado da seguinte forma. Após a introdução, o Parte I explora a importância do sector agrícola e o padrão do comércio agrícola no mundo em desenvolvimento; o Parte II descreve as principais características do AA e outras regras relacionadas que regem o comércio na agricultura, enquanto o Parte III dá uma visão geral das actuais negociações comerciais sobre agricultura. Razões para sujeitar o acesso aos mercados, o apoio interno e os subsídios à exportação às disciplinas do Tratamento Especial e Diferenciado (GATT) e, a agricultura no contexto dos acordos comerciais regionais, dos grupos de negociação e litígios resolvidos sobre comércio agrícola são apresentadas em appendices.