National ICT policy review and e-commerce strategy for Botswana
National ICT policy review and e-commerce strategy for Botswana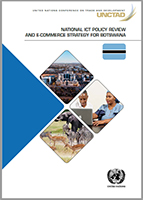 Information and communications technologies (ICTs) have become critical drivers of productivity, innovation and growth. They also have the potential to enable more inclusive development and support job creation in countries that articulate supportive policy and regulatory frameworks and are able to invest in the physical and human capital needed to close the digital divide.
In spite of the rapid evolution and growing complexity of digital technologies, e-commerce remains a basic but essential application for the development impact of ICTs through its effects on business and industrial competitiveness, the opportunities it opens to access new markets and the emergence of entirely new products and services.
E-commerce has been expanding rapidly in many developing countries. While known primarily for its ability to serve as a channel to market and to empower entrepreneurs and enterprises, e-commerce can also play an important role in helping developing countries grow trade and industry, boost productive capacity and facilitate integration into global value and supply chains. E-commerce fosters the flow of digitalized content and information, goods, services, and data, which can support the growth of a knowledge-based economy. As the world continues to grapple with the COVID-19 pandemic, ICTs and e-commerce are also playing a role in supporting countries' post-pandemic recovery efforts and helping them "build back better."
UNCTAD supports countries in formulating their national e commerce strategy through comprehensive diagnostics, policy advice and customized strategy development. This ICT Policy Review and National E-Commerce Strategy of Botswana, prepared at the request of the Ministry of Investment, Trade and Industry, aims at leveraging Botswana's strengths while tackling the bottlenecks and challenges that impede the expansion of e-commerce in the country. The publication lays out five strategic thrusts and recommendations for strengthening Botswana's performance in key policy areas.
To support Botswana in achieving its Vision 2036, NDP11 and the SDGs, the ICTPR e-commerce strategy model was expanded to take into account priority areas of Botswana's development agenda, including growing the country's export markets, private-sector development, citizen empowerment, job creation, productive capacity, global competitiveness, diversification and building a knowledge based economy.
On behalf of UNCTAD, I would like to express our appreciation for the excellent collaboration of MITI and its partners on the strategy. The strategy development has also benefitted from partnerships and cooperation with the World Bank, UNDP, ITU, ITC and private-sector research partners. My hope is that the analysis and recommendations contained in the report will make a valuable contribution to Botswana's efforts at leveraging e-commerce for economic growth and inclusive prosperity.
Isabelle Durant
Deputy Secretary General of UNCTAD
---