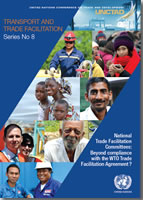 Transport and Trade Facilitation Series, No 8
This study supplements UNCTAD's recent research work on trade facilitation, including National Trade Facilitation Bodies in the World, published in 2015, The New Frontier of Competitiveness in Developing Countries: Implementing Trade Facilitation, published in 2013, Trade Facilitation in Regional Trade Agreements, published in 2011, and several technical notes issued since 2007, particularly the note on multiagency working groups on trade facilitation, issued in 2011.
The value added by this study is in the provision of an analysis of existing National Trade Facilitation Committees in the world, according to Article 23.2 of the World Trade Organization (WTO) Trade facilitation Agreement (TFA). It provides clarity on how countries are interpreting and applying this Article as to date.
Chapter 1 reviews the historical background of National Trade Facilitation Committees and the impact that the signature of the WTO Trade Facilitation Agreement has had on those bodies.

Chapter 2 provides an analysis of 59 trade facilitation committees, based on a survey undertaken by UNCTAD, including their objectives and scopes of action, institutional frameworks, compositions, gender mainstreaming policies, communications and promotion activities, financing sources, as well as the concrete operational outcomes and impacts reached so far.

Chapter 3 summarizes lessons learned as noted by the 59 trade facilitation committees, including success factors and obstacles faced.
This study is based on information in UNCTAD's online repository of National Trade Facilitation Committees (http://unctad.org/tfc).
The repository is maintained with the support of the International Trade Centre and the United Nations Economic Commission for Europe. It is regularly updated and contains information from National Trade Facilitation Committees in over 180 countries.