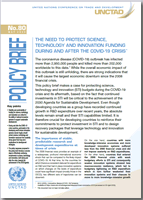 Policy Brief No. 80
The coronavirus disease (COVID-19) outbreak has infected more than 2,950,000 people and killed more than 202,000 worldwide to this date. While the overall economic impact of this outbreak is still unfolding, there are strong indications that it will cause the largest economic downturn since the 2008 financial crisis.
This policy brief makes a case for protecting science, technology and innovation (STI) budgets during the COVID-19 crisis and its aftermath, based on the fact that continued investments in STI will be critical to the achievement of the 2030 Agenda for Sustainable Development. Even though developing countries as a group have recorded continued growth in R&D expenditure over recent years, the absolute levels remain small and their STI capabilities limited. It is therefore crucial for developing countries to reinforce their commitments to protect investment in STI and to design recovery packages that leverage technology and innovation for sustainable development.
Key points:
Stability and predictability of funding for science, technology and innovation are critical for the ability of national innovation systems to support sustainable development.

During and after the COVID-19 crisis countries, particularly in the developing world where innovation systems remain fragile, should protect science, technology and innovation resources from austerity drives given their long-term implications for development strategies.

The policy responses proposed in this policy brief introduce concrete steps in effectively continuing investments in science, technology and innovation, both during and after the crisis, towards the achievement of the 2030 Agenda.