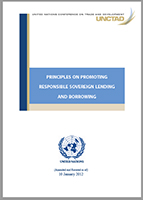 Sovereign insolvencies occur due to systemic and/or extraordinary reasons and due to lenders' and/or borrowers' behavior. Both developing and developed countries—as well as bilateral, multilateral, and private lenders—have been involved in or affected by sovereign defaults.
Undisciplined, ineffective, abusive or non-cooperative behavior on the part of both creditors and sovereign debtors should be prevented in order to minimize sovereign insolvencies and their negative consequences. Sovereign lending and borrowing conducted in a prudent and disciplined manner can promote growth and development; but irresponsible financing can have harmful consequences for the debtor country, its citizens, its creditors, its neighbors and its trading partners. These effects can extend well beyond the territory of the sovereign debtor itself.
Encouraging responsible sovereign borrowing and lending practices is therefore a matter of truly international concern. Sovereign lending and borrowing are intrinsically linked to the feasibility of the Millennium Development Goals. Each side of a sovereign lending transaction – the borrower and the lender – is accountable for its own conduct in these transactions. Neither side can wholly shift to the other the duty of ensuring that the agreement is economically beneficial, financially sound, legally authorized, appropriately documented and carefully monitored.
These principles aim to promote more responsible behavior and provide economic benefit to both sovereign borrowers and their lenders. They are also conceptualized in a holistic way and are thus meant to be applied to sovereign borrowers, developed or developing countries alike, as well as their lenders.
Principles identified in this document are already followed by some sovereign borrowers and lenders. The normative contribution of these Principles lies not in the creation of new rights nor obligations in international law but in identifying, harmonizing and systematizing the basic principles and best practices applied to sovereign lending and borrowing and in elaborating the implications of these standards and practices for lenders and borrowers at the international level. This set of principles should apply without prejudice of other international rules concerning the action of lenders or borrowers.
---
UNCTAD is grateful for the contributions provided by members and observers of the Expert Group, UN member states, external consultants and UNCTAD staff who worked in their professional capacities. The views expressed here do not necessarily represent the views of their institutions or organizations. UNCTAD is also grateful for the generous financial support from the Government of Norway.