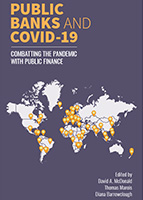 Edited by David A. McDonald, Thomas Marois and Diana Barrowclough
COVID-19 has dealt a devastating economic blow around the world. From individuals who can no longer afford to pay for food, to SMEs unable to cover their rent, to national governments struggling with their balance of payments and skyrocketing health expenditures, the economic impacts of COVID-19 have been sweeping in scope and depth.
Although little discussed in the mainstream media, public banks have been on the front lines of dealing with this economic and health crisis, playing a critical role in stemming financial collapse, supporting households and communities, and channeling resources towards essential health and public services.
Public banks provide supportive credit, fiscal assistance, expert advice and macro-economic stability in ways that private financial institutions are often unable or unwilling to do.
This book offers detailed case studies of public bank actions from around the world, critically examining their policy responses to COVID-19.
We identify 'best practices' in dealing with the current crisis as well as highlighting the changes needed to make public banks more equitable, democratic and sustainable in the future.
---
An accompanying interactive website with additional public bank profiles can be found at PublicBanksCovid19.org
---
Table of Contents
CHAPTER 1
INTRODUCTION: PUBLIC BANKS MATTER AT A TIME OF COVID-19
Diana Barrowclough, Thomas Marois and David A. McDonald
CHAPTER 2
RECLAIMING PUBLIC DEVELOPMENT BANKS TO FINANCE A SUSTAINABLE AND EQUITABLE RECOVERY POST COVID-19
María José Romero
CHAPTER 3
THE COVID-19 CRISIS AS AN OPPORTUNITY TO BREAK WITH THE FAILING GLOBAL MICROCREDIT INDUSTRY
Milford Bateman
CHAPTER 4
CORONAVIRUS AND THE EVOLVING ROLES OF CENTRAL BANKS: AVOIDING A "CLIMATE MINSKY MOMENT"
Diana Barrowclough
CHAPTER 5
THE COUNCIL OF EUROPE DEVELOPMENT BANK AND COVID-19
Oscar Reyes
CHAPTER 6
THE ROLE OF THE EUROPEAN INVESTMENT BANK IN TIMES OF COVID-19
Judith Clifton, Daniel Díaz-Fuentes, David Howarth and Helen Kavvadia
CHAPTER 7
THE KFW AND COVID-19: COORDINATING PUBLIC FINANCE RESPONSES AT HOME AND ABROAD
Thomas Marois
CHAPTER 8
THE "BANK OF WELFARE" AND MEXICO'S MORAL ECONOMY
Nadine Reis
CHAPTER 9
PUBLIC BANKS AND INDIA'S INEFFECTIVE COVID-19 CRISIS RESPONSE
C. P. Chandrasekhar
CHAPTER 10
ARGENTINA'S COUNTERCYCLICAL CREDIT POLICY RESPONSE: MACROPRUDENTIAL REGULATION AND PUBLIC BANK CREDIT DURING COVID-19
Alfredo Schclarek Curutchet
CHAPTER 11
NATIONAL AND MULTILATERAL DEVELOPMENT BANKS DURING THE 2020 PANDEMIC: THE ROLE OF IADB AND CDC DURING THE FIRST PHASE OF COVID-19
Marco Carreras and Stephany Griffith-Jones
CHAPTER 12
THE ROLE OF PUBLIC CREDIT PROGRAMMES IN MITIGATING THE ECONOMIC EFFECTS OF THE COVID-19 PANDEMIC: BRAZIL'S EXPERIENCE
Alberto de Oliveira
CHAPTER 13
THE PUBLIC BANKS AND PEOPLE'S BANK OF CHINA: CONFRONTING COVID-19 (IF NOT WITHOUT CONTROVERSY)
Godfrey Yeung
CHAPTER 14
COVID-19 AND MEASURES TO SUPPORT ENTERPRISES AND LOCAL AUTHORITIES IN ITALY: THE ROLE OF CASSA DEPOSITI E PRESTITI
Daniela Vandone, Marco Frigerio, Carlotta Zatti and Dalya Bakry
CHAPTER 15
PUBLIC BANKING IN PANDEMIC TIMES: PORTUGAL'S CAIXA GERAL DE DEPÓSITOS
Victoria Stadheim
CHAPTER 16
TURKEY'S PUBLIC BANKS AMID THE COVID-19 PANDEMIC
Ali Riza Güngen
CHAPTER 17
COVID-19 AND PUBLIC BANKS IN THE UNITED STATES: A MOMENT OF OPPORTUNITY?
Ellen Brown
CHAPTER 18
SOUTH-SOUTH PUBLIC FINANCE: A RAPID REVIEW OF COOPERATION AND RESILIENCE TO FACE COVID-19
Diana Barrowclough
Public Bank Association Statements
CHAPTER 19
THE IMPACT OF COVID-19 ON AADFI MEMBERS
Association of African Development Finance Institutions
CHAPTER 20
THE IMPACT OF COVID-19 ON ADFIAP MEMBERS
Association of Development Financing Institutions in Asia and the Pacific
CHAPTER 21
EAPB STATEMENT ON THE ROLE OF PUBLIC BANKS IN THE CONTEXT OF THE COVID-19 CRISIS
European Association of Public Banks
CHAPTER 22
RESPONSES OF LATIN AMERICAN DEVELOPMENT BANKS TO THE ECONOMIC CRISIS PRECIPITATED BY COVID-19
Latin American Association of Development Financing Institutions