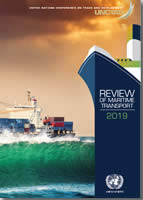 Sustainable Shipping
World maritime trade lost momentum in 2018, with volumes expanding at 2.7 per cent, below the historical averages of 3.0 per cent and 4.1 per cent recorded in 2017. Total volumes are estimated to have reached 11 billion tons, an all-time high, according to UNCTAD records. UNCTAD is projecting 2.6 per cent growth in 2019 and an annual average growth rate of 3.4 per cent for the period 2019–2024. However, the outlook remains challenging, given the heightened uncertainty regarding trade policy and wide-ranging downside risks clouding the horizon.
In 2018, world merchandise trade growth decelerated at an unexpected rate, and tariffs on trade between China and the United States of America escalated amid mounting trade tensions and a proliferation of national trade-restrictive measures. Apart from trade policy crosscurrents, geopolitics and sanctions, environmental concerns, fuel economics and tensions involving the Strait of Hormuz – a strategic maritime chokepoint – were in the headlines.
Other forces at work continued to slowly reshape the maritime transport landscape. A new normal, contrasting with the historical perspective, appears to be taking hold. This trend is characterized by overall moderate growth in the global economy and trade, a supply chain restructuring in favour of more regionalized trade flows, a continued rebalancing of the Chinese economy, a larger role of technology and services in value chains and logistics, intensified and more frequent natural disasters and climate-related disruptions, and an accelerated environmental sustainability agenda with an increased awareness of the impact of global warming.
A transition to the new normal calls for an improved understanding of the main issues at stake, better planning, and flexible and forward-looking-policies that can effectively anticipate change and enable appropriate response measures that take into account the heterogenous nature of developing countries as a group and their varied local conditions and needs.