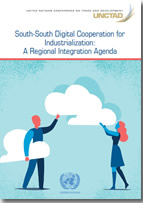 The pace of digitization has picked up with the onset of Industry 4.0 or the fourth industrial revolution and with the growing use of digital technologies in traditional manufacturing and service activities. Decisions along the entire value chain of production and distribution have been affected as well as impacting consumer behavior and factor markets, i.e., what to produce, how to produce, where to sell and who to reward.
Digital linkages are intensifying as digital services add a competitive edge to manufactured products by being bundled into their production as well as being increasingly used in their distribution.
Corporations are transforming their business models -- companies are becoming global leaders in providing:
Car services without owning a single car (UBER)

Accommodation services without owning a single hotel (AirBnB)

Retail services without holding any stocks (Alibaba)
Disruptions in the existing patterns of production, consumption and investments are invariably affecting international trade and foreign direct investment (FDI) patterns and governments are under increasing pressure to act in order to sustain economic growth, preserve jobs and ensure their firsm retain shares in global production, investments and trade.
This paper discusses the various components of digital infrastructure to de-mystify digital economy and examines the reasons for growth of big-tech firms and the source of their rent-seeking powers.
The extent of digitization of manufacturing is estimated for identified developed and developing countries using world input-output database. The estimated value-added by digital services to manufacturing exports show wide variation between developed and developing countries, indicating the growing digital divide in manufacturing exports.
The paper proposes a ten-point South-South digital cooperation agenda which can help the developing countries to build their digital capacities and digital skills.
The importance of ownership of data by the national governments is highlighted along with developing regional digital strategies for supporting national digitalization efforts of the developing countries.