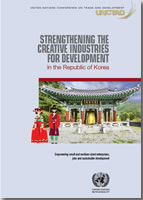 This Report was prepared with the purpose of making a policy review and analysis of the current status of the creative economy in the Republic of Korea, an economy that aims to champion the value of innovation, creativity and entrepreneurship across society and globally.
This transformation requires the commitment both from government and private sector to lead change towards a new economic and social model where creativity and innovation are at the center of development.
The Republic of Korea has been successful in investing in its people and its talents. It is now investing in the potential for the youth to be great entrepreneurs.
We hope that this report will be useful to developing countries and encourage them to look into new growth opportunities and sustainable development based on creative new industries.
There is no one single model for success in the creative economy. What really matters is what can be achieved by developing and investing in a creative and innovative economy, new jobs, new export opportunities and a more inclusive society.
The Creative Economy report for the Republic of Korea is structured in five chapters.
Chapter 1 gives a general introduction of the country's economic growth and success and the reasons for a shift to a new economic model and the creation of new jobs.
Chapter 2 introduces the creative economy promotion strategy of the Republic of Korea that utilizes its science, information and communications technology capacity, all of which are the country's strengths. Whilst addressing strategic added value.
Chapter 3 addresses the government strategy which is oriented to promoting small and mediumsized industries and start-ups, particularly in the creative content industries.
Chapter 4 describes the 'creative economy valley' which is a government driven strategy to support the 'convergence of science and technology with industry, the fusion of culture, and industry and creativity and entrepreneurship.
Chapter 5 provides conclusions and recommendations for future steps.