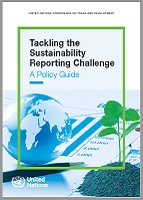 This publication has been prepared by UNCTAD-ISAR to support countries in their efforts to strengthen their national sustainability reporting infrastructure to keep up with international changes and promote sustainable finance and development.
It contains different approaches, best practices and examples from which policymakers and other interested stakeholders can choose when establishing or strengthening the regulatory, institutional and human capacity components of the reporting infrastructure.
It is intended as a menu of policy options. It was developed based on lessons learned from different countries, including through UNCTAD technical assistance activities in Africa and Latin America in the field of accounting and reporting.
It also draws on evidence collected by UNCTAD through desktop research, feedback obtained during a Consultative Group meeting in March 2022, and the work already accomplished with the development of UNCTAD sustainability and Sustainable Development Goals (SDGs) reporting-related tools comprising the Accounting Development Tool (ADT), the Guidance on Core Indicators for Sustainability and SDG Impact Reporting (GCI), the Core SDG Indicators for Entity Reporting Training Manual and the GCI e-learning courses.