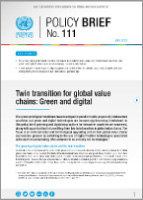 UNCTAD Policy Brief No. 111
In this policy brief, greening and digitalizing options for latecomer countries are examined, along with opportunities for benefiting from this twin transition in global value chains.
The focus is on environmental and technological upgrading and on how global value chains can become greener by switching to the use of digital frontier technologies associated with smart manufacturing, often referred to as industry 4.0 technologies.
Key points
The green and digital transitions have developed in parallel to date, especially in latecomer countries, but green and digital technologies are increasingly becoming intertwined.

Future policies should focus on aligning green and digital strategies, developing digital competencies and strengthening financial support and international partnerships