The Utilization of Trade Preferences by COMESA Member States
The Utilization of Trade Preferences by COMESA Member States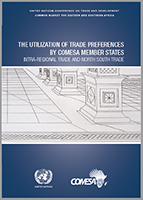 Intra-regional Trade and North South Trade
Governments are increasingly negotiating Free Trade Agreements (FTAs) and mega-regionals to create and expand market access for their economies. The African Continental Free Trade Area (AfCFTA) is the latest attempt in the region. Only recently, Governments have realized the importance of using utilization rates to monitor the effective use of FTAs by their firms.
The utilization of trade preferences is an instrument to measure how firms effectively use an FTA. As such, it is an essential tool that assists policymakers and administrations in establishing the effectiveness of trade agreements; and firms to realize the extent of the missed trade opportunities.
This study stems from a long-standing relationship between the Common Market for Eastern and Southern Africa (COMESA) and the UNCTAD Secretariat in trade and trade facilitation.
It aims at shedding light on one important aspect of regional integration, namely, the effective use of the trade preferences provided by free trade agreements (FTAs) such as the COMESA FTA and other preferential trade arrangements (PTAs) granted by QUAD Developed countries1 such as AGOA, EBA, and GSP preferences.
In this scenario, monitoring the effective utilization of trade preferences granted under North-South preferential trading arrangements as well as those under the existing Regional Economic Communities (RECs) and, soon, the AfCFTA is a priority. This will ensure that these latter trade agreements are functioning correctly to boost intra- African trade and deliver the trading opportunities and the economic growth that motivated the political will to launch such trade initiatives.
This joint publication seeks to inform COMESA's governing bodies of the measures needed to ensure that the COMESA FTA is effectively used. Furthermore, the findings should guide the planning and implementation of the necessary reforms and actions to address underutilization; this is especially true when COMESA Member States engage in the AfCFTA.
The findings of this study should be addressed by positive actions and reforms especially of rules of origin and their administrative procedures as well as effective dissemination efforts among stakeholders. The data and the related findings from utilization rates are reported from QUAD databases and notifications of COMESA Member States to the COMESA Secretariat.
---