African Continental Free Trade Area: Advancing Pan-African Integration. Some Considerations
African Continental Free Trade Area: Advancing Pan-African Integration. Some Considerations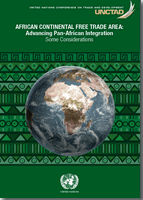 African countries have declared their paramount interest in attaining deep economic integration at the continental scale since emancipation from colonial control dominated their political agendas half a century ago.
In the new century that resolution has gained momentum through successive African Union decisions to expedite regional economic integration with a view to forming a continental free trade area (CFTA) by 2017 and an economic union by 2019.
'The ultimate goal of the African Union is full political and economic integration leading to the United States of Africa'. It is acknowledged that the path to get there will not be easy but a number of studies suggest that it is not only feasible but also important for Africa's economic development.
What rests ahead, therefore, is to make decisions on how to speed up the process and clear the obstacles to address the inevitable challenges so as to realize the ambition of an integrated African continent politically, economically, socially and culturally with the resulting development gains.
The CFTA is a key driver for Africa to realize the structural transformation and industrialization of Africa as envisaged in the AU Agenda 2063, as well as to promote implementation of the United Nations 2030 Agenda for Sustainable Development.
This report provides an overview of the opportunities and challenges for African continental economic integration through the Continental Free Trade Area (CFTA) initiative. This is discussed in chapter 1.
It then discusses complementary building blocks for intra-African trade to flourish within Africa when it is stimulated by the adoption and implementation of the CFTA. This is provided in chapter 2.
Some guiding principles for approaching the CFTA and priority policy measures for adoption by African countries to ensure sustained trade growth and economic integration following the CFTA are discussed in chapter 3.
The report concludes with some remarks on African visionary approach to be taken in building the CFTA, and not just as a stand-alone free trade agreement.
---