ASEAN Investment Report 2016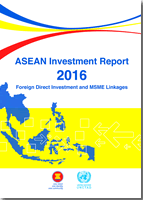 Foreign Direct Investment and MSME Linkages
The ASEAN Investment Report series is an annual report on the development of investment and other related issues in the region. With the theme "Foreign Direct Investment and MSME Linkages", this latest edition examines the drivers and motivations that underpin investments in ASEAN. It takes a closer look at MNE activities and operations in the ASEAN region. Specifically, it examines the case of two important sources of FDI to ASEAN, that of Korea and the United States, with useful insights on the approaches taken, and the success and challenges faced.
An additional feature of this year's report is the study and analysis on the investment activities of micro, small and medium enterprises (MSME) in ASEAN – namely on their linkages and internationalization strategies – why and how they do so. The Report analyses the role of ASEAN MSMEs in realizing the goals of the ASEAN Economic Community and in improving the overall investment environment.
The Report is prepared under a technical cooperation arrangement between the ASEAN Secretariat and the United Nations Conference on Trade and Development (UNCTAD).
---