The Ins and Outs of Inclusive Finance: Some lessons from Microfinance and Basic Income
The Ins and Outs of Inclusive Finance: Some lessons from Microfinance and Basic Income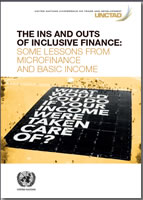 STARTING WITH THE POOR – Diana Barrowclough
Diana Barrowclough is Senior Economist at UNCTAD, where her research activities include co-authoring the flagship Trade and Development Report as well as managing research and policy activities relating to the international financial system and development.
Her long-held interest in finance, poverty and development included co-leading the project 'Microfinance and public policy', carried out from 2001 with support from the Geneva International Academic Network. She has a PhD in economics from the University of Cambridge, UK.
FROM PANACEA TO "ANTI-DEVELOPMENT" INTERVENTION: THE RISE AND FALL OF MICROCREDIT – Milford Bateman
Milford Bateman is Visiting Professor of Economics at Juraj Dobrilla at Pula University, Croatia; an Adjunct Professor in Development Studies at Saint Mary's University, Halifax, Canada, and a freelance consultant, including for the United Nations. His main teaching, research and consulting interests lie in the area of local economic development, particularly the developmental role of the local state, local finance and microfinance, and the developmental role of cooperatives.
His recent publications include Why Doesn't Microfinance Work? The Destructive Rise of Local Neoliberalism (London: Zed Books, 2010) and, more recently, he co-edited (with Kate Maclean) Seduced and Betrayed: Exposing the Contemporary Microfinance Phenomenon co- (Albuquerque: University of New Mexico Press, 2017).
DEVELOPMENT AND BASIC INCOME: AN EMERGING ECONOMIC MODEL – Guy Standing and Ian Orton
Ian Orton currently works for UNICEF's Social Inclusion and Policy Section in New York, as a social protection specialist, where he is conducting research on universal child grants. Previously he worked for Bangladesh Rural Advancement Committee (BRAC), the international Social Security Association, and the International Labour Organization as a social security analyst, where he produced research on social policy issues related to social protection. With an academic background in political theory and philosophy, he gained his PhD in philosophy from the University of Northampton in 2006.
Guy Standing is Professorial Research Associate at the School of Oriental and African Studies, University of London. He is a Fellow of the British Academy of Social Sciences and co-founder and now honorary co-president of the Basic Income Earth Network (BIEN.) He previously held professorial positions at SOAS, the University of Bath and Monash University and was Director of the ILO's Socio-Economic Security Programme.
Consultancy experience includes UNICEF, UNCTAD, UNDP, the European Commission and the World Bank. He also worked with SEWA in India for many years, and was Director of Research for President Mandela's Labour Market Policy Commission.
His career has combined being in the United Nations, being an activist (working for SEWA, et al, and steering BIEN), and being an academic. He is on the editorial boards of various academic journals, including Development and Change, Work, Employment and Society and the Indian Journal of Labour Economics. He has been invited to give lectures in over a hundred universities around the world, and has twice been invited to be a speaker at Davos.
His recent books include The Precariat: The New Dangerous Class (2011), translated into 20 languages; A Precariat Charter (2014); with others, Basic Income – A Transformative Policy for India, and The Corruption of Capitalism: Why Rentiers Thrive and Work Does Not Pay (2016). His latest book is Basic Income: And how we can make it happen (Pelican, Penguin, 2017).
---