INTERNATIONAL INVESTMENT INSTRUMENTS: A COMPENDIUM VOLUME XII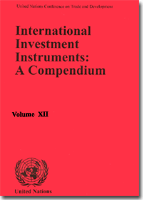 International Investment Instruments: A Compendium contains a collection of international instruments relating to foreign direct investment (FDI) and transnational corporations (TNCs). The collection is presented in twelve volumes.
This, the twelfth volume in the series, is divided into two sections:
Part One reproduces investment-related provisions in a number of free trade, economic integration and cooperation agreements not covered in previous volumes;
Part Two contains the texts of selected prototype BITs not covered in previous volumes.
---