Iraq eTrade Readiness Assessment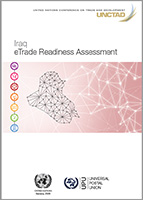 The e-commerce ecosystem in Iraq, while emerging, is still facing major challenges.
The country lacks a unified vision on e-commerce and the coordination required among stakeholders to accelerate the Iraqi digital development agenda.
Years of conflict in Iraq have caused major damage to physical infrastructure. Rebuilding ICT infrastructure and improving trade logistics – especially in terms of customs' clearance processes – are key to building the foundations for e-commerce and the digital economy in Iraq.
The customs' operational model in Iraq also needs an update, as time and costs to export and import goods in Iraq are among the highest globally. Some improvements have been made, by introducing new regulations on electronic processing of moving goods, but further reforms are needed.
Other challenges are the limited role of Iraqi Post in the digital economy and the low integration of postal services with other e-commerce stakeholders, for both national and cross-border transactions.
Despite these challenges, there are important opportunities for Iraq to tap into the potential of e-commerce for development:
The assessment shows that e-commerce would help stimulate domestic demand, boost trade and diversify Iraq's largely oil-based economy. Increased productivity and competition would push local industries to create new jobs, especially for the youth, who represent nearly 60% of the population.
With the improved security environment, Iraq has a chance today to leverage digital technologies for economic diversification and for supporting more sustainable and inclusive development.
The assessment can help the Government of Iraq mobilize the resources needed for the implementation of the key policy actions, thus moving the country towards its digital economic and social transformation.
"E-commerce can offer a unique opportunity for Iraq to diversify its economy away from oil, boost productivity and generate the much needed-jobs for the young population of Iraqis. This, however, will need a unified vision on e-commerce and a strong institutional framework to push forward the digital and economic transformation of the country," said Shamika N. Sirimanne, director of UNCTAD's division on technology and logistics.
---