Lesotho Rapid eTrade Readiness Assessment
Lesotho Rapid eTrade Readiness Assessment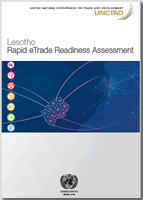 Lesotho has experienced impressive economic growth over the past decade, with a Compound Annual Growth Rate of 3.6 per cent annually since 2007 and a real gross domestic product (GDP) per capita growth of 25 per cent in the last decade.
This growth was largely supported by increased diamond exports. The country is exploring economic diversification in a handful of sectors, such as mining, quarrying, textiles, and apparel.
In this context, e-commerce can potentially boost economic performance and diversify sources of incomes, improving accessibility to customers, markets and trade information, all of which play a key role for development and graduation from the LDC category.
Nevertheless, the conditions for success require the adoption of a series of fundamental reforms, such as having reliable and affordable infrastructure, the necessary legal and regulatory framework in place for payments, the appropriate solutions with regard to access to finance, and the capacity to respond the needs of the digital economy.
Lesotho's Rapid eTrade Readiness Assessment is the eighteenth of such assessments conducted by UNCTAD.
This report is expected to contribute to the efforts of the Government of Lesotho to build a robust, safe and business-friendly e-commerce and digital economy environment.
As with all Rapid eTrade Readiness Assessments, the seven policy areas used in the eTrade for all initiative were used as entry points for this assessment. These are:
E-commerce readiness assessment and strategy formulation

ICT infrastructure and services

Trade logistics and trade facilitation

Payment solutions

Legal and regulatory frameworks

Skills development for e-commerce

Access to financing
The information provided in this report is based on data collected from respondents to the survey for both the public and private sectors and the stakeholders meetings during the in-country mission.
With the eTrade for all partners, UNCTAD is committed to supporting Lesotho in its resolve to make e-commerce work for the country's development.
---