Manual on Consumer Protection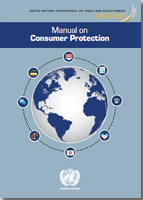 The UNCTAD Manual on Consumer Protection 2017 edition is the first comprehensive international reference in this field, aiming to support developing countries and economies in transition in their choice of policies and providing practical tools to assist policy makers in enhancing capacities while implementing the recently revised United Nations Guidelines for Consumer Protection.
UNCTAD, as the focal point for consumer protection issues within the United Nations system, is fully committed to promoting the guidelines and encouraging interested Member States to create awareness of the various ways in which they can promote consumer protection in the provision of public and private goods and services in collaboration with businesses and civil society.
This is all the more important since consumer protection is not homogenous around the world. Indeed, as the General Assembly noted "although significant progress has been achieved with respect to the protection of consumers at the normative level since the adoption of the guidelines in 1985, such progress has not been consistently translated into more effective and better-coordinated protection efforts in all countries and across all areas of commerce."
With this manual, UNCTAD is contributing to spreading good practices and enhancing the capacities of developing countries and economies in transition to step up the protection of their consumers.
The twenty-first century consumer is a global consumer. Today's consumers have the largest choice of goods and services, while the digital revolution has propelled them to the forefront of international trade. This also comes with greater risks, such as unsafe products, unfair business practices, inadequate dispute resolution and redress, breaches to consumer data privacy and lack of coordinated action among member States. More than ever, the welfare of any consumer is affected by the welfare of all consumers around the world, and we are witnessing the eve of global consumer protection.
Consumers need to be empowered for them to play their role as agents for change in achieving the Sustainable Development Goals. This can only happen when appropriate laws, policies and institutions are in place and all stakeholders, particularly businesses and consumer groups, participate in upholding consumer protection in the marketplace.
I commend this manual as an important tool for all those seeking to increase the welfare of all consumers.

Mukhisa Kituyi
Secretary-General of UNCTAD
---